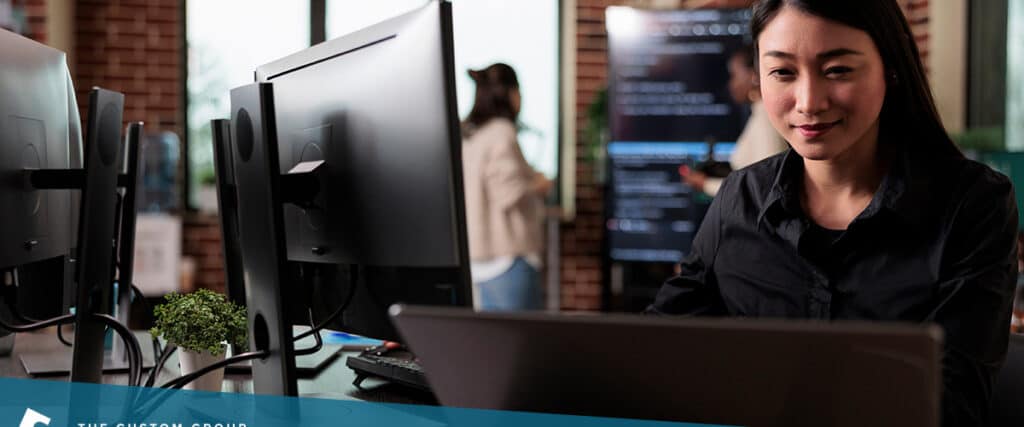 Why You Should Work with the Custom Group of Companies to Find IT Candidates
The data is in, and it's grim; the IT talent shortage is weakening your bottom line. IT unemployment stands at around 2% these days. While the average time to hire for any industry is 42 days, one study put that number at more than twice that amount for specialized IT talent.
But if you're reading this, it's not something you don't already know. You may be struggling to find IT talent, and it's putting pressure on you and your team. What may be worse is there is a direct correlation between the length of employment job openings and your corporate bottom line.
Recruiting and hiring teams are living in extraordinary times. That's exactly why you need another right arm to help you find IT talent. Here's how an IT recruiting firm like the Custom Group of Companies can alleviate your IT hiring shortage with qualified, pre-vetted talent.
What Are The Benefits of Working With The Custom Group of Companies to Find IT Candidates?
What Can a Staffing Agency Do to Shorten Your Time to Hire?
The days of placing an ad and waiting for candidates are long gone. Today, you must do a lot of detective work to even find IT talent with the skills you need. If you don't have an in-house recruiting firm, you may rely on your HR team to find candidates. The problem isn't their performance in this area but simply that your human resource managers are pulled in so many different directions. From onboarding to termination, payroll, compliance, and so much more, your HR team has a lot of responsibilities. The problem with adding recruiting IT candidates into that mix is that the process of sourcing and screening IT talent is incredibly time consuming. The fact that staffing agencies devote their entire business to this process should validate the reality; that recruiting IT talent is a job in itself.
The Custom Group of Companies specializes in finding and building relationships with technology talent. Each of our recruiters, all day long, are on the phone, email, and text with potential tech talent who may be looking for work at some point. We focus on the growth of these relationships with the passive IT candidate. These candidates haven't applied to anything but they may be casually considering a job switch at some point. These are the candidates who will never hit your job portal but instead will rely on their trusted relationship with a Custom Group of Companies recruiter to represent them privately behind the scenes to targeted employers. It's a discreet service that we provide that is entirely free to the tech candidate.
Now imagine the networks we've built over the years. Every workday, for around eight hours, multiplied by the number of recruiters on our team—that's how many candidates are active in our tech networks. Does this mean we'll find you the right candidate immediately? No. First, we want to understand your culture and what's important to the team we're hiring into. We understand how a lack of culture fit can destroy even the best employee relationship. Then we source the candidate, paying particular attention to the job requirements and the soft skills match. After an interview where we "pitch" your company, we carefully select only the best and most qualified candidates to send to your team.
Imagine the time and cost savings that comes with outsourcing these laborious processes to a firm like the Custom Group of Companies. What could your HR team do with that extra time? Would it help your current employees to find someone to fill that open IT role?
Ready to Find IT Candidates?
If having a recruiting partner sounds intriguing, let's talk. We're here to help your HR team—and your business.