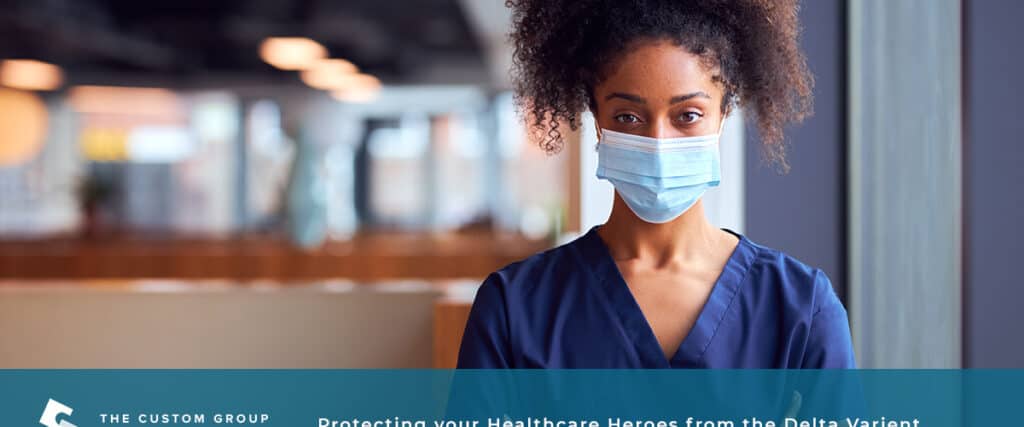 Protecting Healthcare Heroes from the Delta Variant
The new Delta variant has everyone a little on edge these days and nowhere more than on the front lines in the healthcare field. Delta has been sweeping the country until it is now more than 99% of the COVID cases we're seeing, which has led to more hospitalizations and another round of risk for healthcare workers. Delta is about twice as contagious as the other COVID variance, so people without the vaccination are more at risk. None of this is news to healthcare providers, who have been dealing with this variant all year. How can you and your organization protect our nation's "healthcare heroes" from the Delta variant?
What Can Your Company Do to Help Healthcare Workers Fighting COVID?
The first step your company can take to help overburdened healthcare workers is to follow the CDC guidelines and recommend inoculation schedule against the virus. In July, nearly 60 healthcare organizations also reinforced the CDC guidelines, by recommending that Americans receive the vaccine. Many healthcare organizations are now recommending that their workforce receive the vaccine, as well. Wearing masks and getting tested periodically are all important in the fight against this pandemic.
The Society for Human Resource Management (SHRM) also suggests, "Employers should be prepared to respond to more requestions to work from home and explore reasonable accommodations for workers who have disability-related concerns."
Many organizations now require vaccines. Federal rules now require the vaccine for government contractors and the military. Some states and local jurisdictions have followed suit. Employers should continue to stay informed about the latest Delta variant information, especially in those communities with a low vaccination rate. SHRM says, "The best thing employers can do to protect unvaccinated workers is to require them to wear masks and continue to social distance." Set the expectation that this virus is serious and employees should stay home if they feel sick.
These steps will help lessen the COVID cases your local hospital will encounter. This will reduce the burden they're feeling. Some of the other ways to help your local healthcare professionals include:
Consider sponsoring lunch for your local healthcare teams.
Give them a social media shout out to remind others to support these teams.
If you have extra supplies, consider donating the to your local healthcare facility.
Take care of your workforce.
For companies, taking care of your workforce remains a top priority.
If your business actively promotes CDC guidelines in support of mask-wearing, social distancing, and yes, vaccines, this will help not only your workforce and production numbers, but also your community. You can also promote staying home when a worker is sick by forging a partnership with the Custom Group of Companies. Our organization can provide you with a strong workforce when you need to fill in gaps in production coverage or ramp up to handle work volumes. Talk with our team today to find out how our organization can partner with yours to make things a little better during the pandemic—and beyond. Click here to find out more.