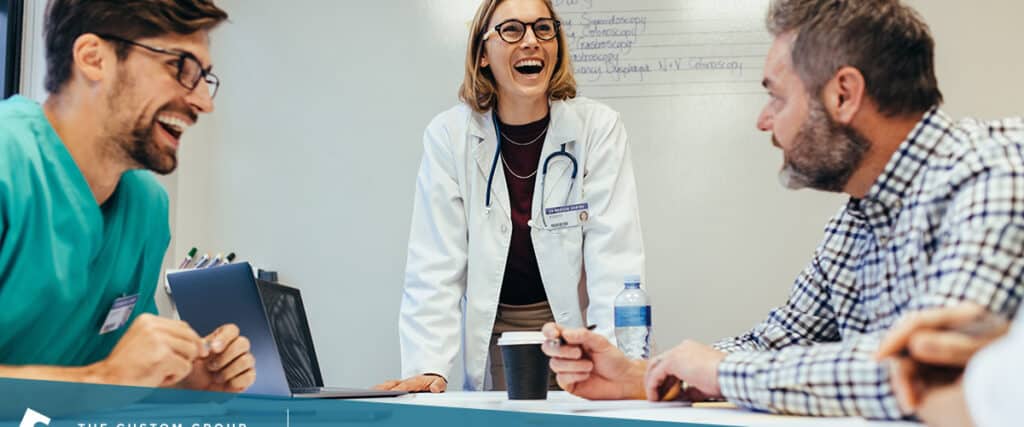 How to Create a Positive Candidate Experience When Recruiting Healthcare Professionals
The candidate experience always matters, but it matters more when candidates have a wide array of jobs to choose from. That's the reality of today's job market, where there are many more jobs than there are experienced candidates. What is candidate experience, and how can you create a better environment for any healthcare professional considering a job in your company?
How Can You Create a Positive Candidate Experience?
Understanding the Candidate Experience
The candidate experience encompasses all of the interactions a job candidate has with your company. This includes human and computerized interactions, including:
Your careers page (and how it views on mobile).
Online advertisements.
The application process itself.
Automated and manual communications from the applicant tracking system.
Interviews and follow-ups.
Today, the candidate experience starts well before a human interview. During each of these interactions, the healthcare candidate is deciding whether yours is the kind of company they want to work for. To ensure they wind up saying "Yes" to this question, healthcare organizations must create a better candidate experience. How can you do that?
Creating a Positive Candidate Experience or Healthcare Workers
To improve the candidate experience, healthcare organizations must start with their brand. Most candidates will research your organization before applying to a job. You want to present your organization in the best light possible from the perspective of what matters to the candidate. Becker's Hospital Review interviewed healthcare executives who suggested that today's candidates want:
Mission-driven work with a purpose.
Job flexibility.
Strong team collaboration.
Great pay and benefits.
An inclusive culture.
Work/life balance.
Organizations that offer this kind of culture should make an effort to brand their business in a way that shows potential candidates you offer these things. Employers can use a variety of tools to brand their organization in this way, from social media to the company website and in internal and external communications.
The second and perhaps most important candidate experience touchpoint is via candidate communications. In this, many companies are failing, with one study showing that 63% of candidates do not adequately communicate with job applicants. Nearly 95% of job seekers say they value understanding how the recruiter will follow up on their application. Just this information alone will give healthcare candidates a better experience with your company. Healthcare organizations can improve candidate communication by:
Managing candidate expectations by sharing the hiring timing and process.
Conducting regular check-ins to keep the candidate engaged.
Using all the communication methods available, from phone and video to text, email, and even chatbot.
Finally, streamlining the application process itself. When was the last time you tried to apply to your company? If your application process is unwieldy, lacks mobile functionality, or even has redundancies such as uploading a resume and then typing in details—you are out of step with the modern application process.
How Are You Creating a Positive Candidate Experience?
The Custom Group of Companies knows a lot about healthcare candidate engagement. We are a leading provider of healthcare talent to some of the biggest names in the business. Find out why our team excels at candidate engagement and how we can put our processes and tools to work to find you talent. Call on us today.