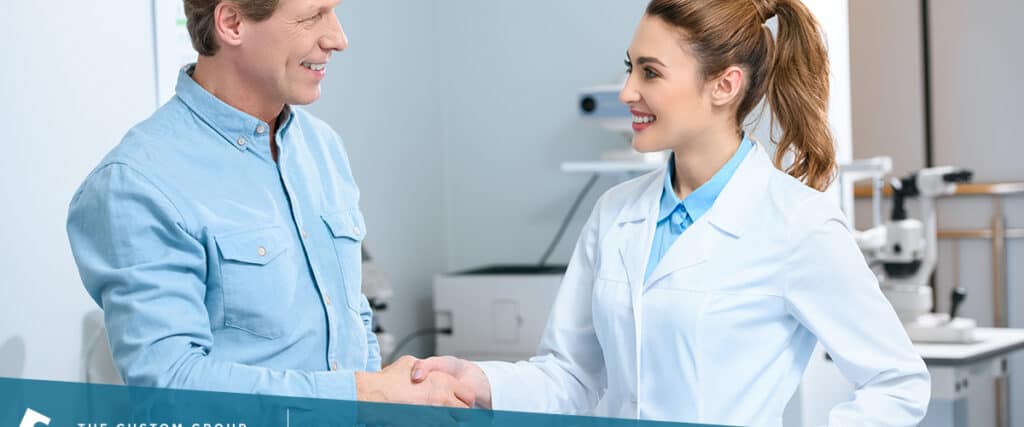 4 Ways to Successfully Hire Healthcare Candidates
In the healthcare field right now, using the phrase "successfully hiring a healthcare candidate" is an oxymoron. Yes, hiring right now is that hard. It's true from the back office to the clinical team; you can't find enough of the high-quality candidates you need. Yet companies like The Custom Group somehow manage to find healthcare job candidates. How is that possible? We have four tricks up our sleeve that we're willing to share. Read this blog to find out more.
How Can You Hire the Right Healthcare Candidates?
Tip 1: Nurture Passive Candidate Relationships
From doctors to the hospital c-suite, no one applies to healthcare jobs anymore. While this is a generalization, the truth is that the candidates you really want, the ones with the experience you need, may not be looking at all. One big secret to the recruiting success of a staffing agency like The Custom Group of Companies is that our recruiters spend hours every day building our talent networks. While the majority of these experienced healthcare experts may not be looking for a new job, the goal is to build relationships for the future, when they are. This is a long-term strategy that bears fruit almost every single day. Most internal healthcare HR teams don't have the time to pursue this approach—but they should.
Tip 2: Improve Your Recruiting Tools
From a LinkedIn seat to a modern applicant tracking system (ATS), does your team have the right tools to give them a competitive edge in recruiting? LinkedIn, while quite expensive, is an important investment and an excellent tool, particularly for proactive candidate sourcing. A good ATS will allow you to automate candidate contact, keeping them engaged and in the loop of the hiring process without you having to lift a finger. Investing in job boards may also be very helpful. The point here is if your recruiting tools can't keep up with the competition, you're starting your search process behind the eight-ball.
Tip 3: Consider Posting (A Better Ad) Somewhere Else
All the mainstream job boards need to be covered. But your ad is on Indeed and LinkedIn and Monster, and more. What about retargeting your ad to a secondary set of niche job boards such as healthcare Jobsite, CareerVitals, MGMA, or Healthcare Source? Have you done some outreach with regional academic and vocational institutions to make connections with students? What about rethinking your job ad while you're at it? Most healthcare job ads are very similar, discussing the job in great detail. But consider approaching your job ad in a way that pitches the work to a candidate by describing what's in it for them. What is it about your institution that keeps employees for the long term? Are you offering a signing bonus? Do some positions have flex scheduling?
Ready to Hire Candidates?
All of these tips will improve the reach of your job ads and hopefully find you more candidates, more quickly.