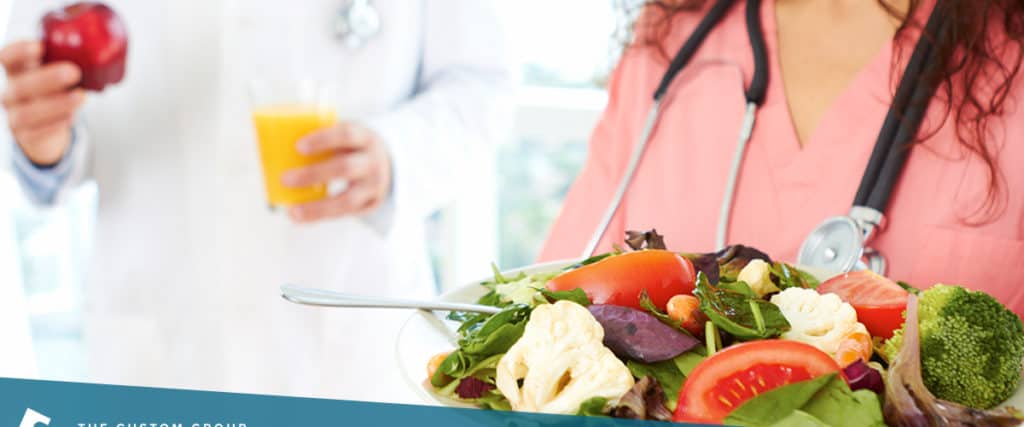 Improve Healthy Habits on the Job
Burnout is a real and persistent problem, particularly in some of the higher stress professions such as healthcare. Staying healthy is particularly important now when our immune systems are working overtime to potentially fend off the coronavirus. Healthcare workers know we need to make healthier decisions about our habits, but in the tumultuous environment of 2020, it's hard. This article will help teams improve their healthy habits on the job.
1. Eating Healthy
Everyone jokes now about gaining the "COVID-19," stress-induced poundage from being stuck at home and worried about the pandemic. But it's no joke; the Mayo Clinic reports that the disruption in our routines has caused many people to pack on the pounds. The good news is we're skipping going to the restaurants. But that hasn't stopped many of us from ordering in. Practicing meal planning, calorie counting, and light snacking throughout the day on non-processed fresh fruits, vegetables, and legumes, can help you keep off the weight. Try meal planning, taking time to cook dinner and avoid takeout or processed meals. During your shift, take light, healthy snacks to sustain you on the go.
2. Exercising
Busy nurses and doctors know how much running around occurs on a typical hospital shift. But many healthcare roles are more sedentary. These days, getting to the gym can be problematic when they're still shut down, and working out with a mask on is no fun. Instead, try starting a new routine of taking a walk just before work or at lunch. Consider investing in home exercise equipment if you have room. Even 10-minutes on a stationary bike while you watch the nightly news can help alleviate stress and help you sleep better at night. The point is to establish a routine and stick to it.
3. Skip negativity
Speaking of the nightly news, you will feel better and stay healthier if you take a break from social media periodically. Try shutting down from all the negativity that's out there for two hours before you go to bed each night. Being connected all day and all night can be exhausting. Instead, set aside some non-digital time every day. Unwind with a good book, a fun podcast, or a movie instead. Skipping some of the negativity and tuning out for a bit every day will help you manage your stress and stay healthy.
4. Stand up and move
Even before the coronavirus, the American worker was too sedentary. Healthcare works see first-hand how spending too much time sitting can shorten your life and cause health issues. That's why the standing desk became such a big fad that companies and their workers embraced. But in a healthcare setting, it's much harder for billers or administrative workers to take the kinds of breaks necessary to get up and move around. While many healthcare roles require a certain level of physicality, there are many back and front office functions that require desk work. Talk with your employer about the options available that will help you change a sedentary shift into one that allows periodic breaks for a walk or even the addition of a standing desk. You'll find these changes will give you an unexpected mood and energy boost that is also good for your health.
At the Custom Group of Companies, we care about you and your health. Talk to our team about career shifts that could lessen your stress and improve your health. We can help.